All celebrities are wealthy and have enough money to spend on houses or, in other cases – vintage cars. Although those vehicles spend most of the time parked in the garage, there are times when they are taken for a spin. You might have heard of Jay Leno's amazing collection, but it might come as a surprise how many other stars enjoy driving a vintage car. Here is a list of 30 of them.
Page 1 of 30
Robert Downey Jr.
Robert Downey Jr. is most famous for his role as Iron Man. However, not all people know that he has an obsession with classic cars. He is said to have purchased more than 20 during his years as a superhero. A favorite is the 1965 Corvette Stingray. He also has a 1970s Mercedes-Benz, a 1970s Mustang, an Audi R8 and R7, and many others. He has shared that he would like to own a GTI, but it is too expensive.
Page 2 of 30
George Clooney
George Clooney owns a big collection of vintage cars, but surprisingly, his favorite one was not a purchase he had made. We are talking about a red 1958 Chevrolet Corvette V8 C1 convertible which turns out to be a family heirloom. His father had bought it when he was young and later passed it down to George. The famous actor also owns a Porsche Carrera, a Tango 600, as well as some amazing motorcycles.
Page 3 of 30
David Letterman
After David Letterman's retirement, he has had more free time to collect vintage cars and race – two real passions. Letterman is said to own some of the most exciting vintage cars in history, including six Porsches, eight Ferraris, three Austin Healeys, and many others. He also owns an exceptional 1955 Jaguar XK140 which is now estimated to cost over $130,000. His whole collection is over $2.5 million.
Page 4 of 30
Ralph Lauren
He is one of the most successful fashion designers in the world. Because of his profitable career, he has managed to collect some amazing vehicles. Some are luxurious, others are sporty. Maybe his most famous car is the 1950 Jaguar XK120 Roadster. He has 5 Jaguars in total, but has treated this one to a custom paint job, saying that it looks like a "British Racing Green with a twist."
Page 5 of 30
Beyoncé Knowles
Beyonce is no stranger to luxury. Although she is beginning to collect vintage cars, one of the most extraordinary ones is a 1959 Rolls-Royce Convertible Silver Cloud. This was a gift for her birthday from Jay-Z who is also a vintage car lover. His collection is estimated at around $15 million. This gift to Beyoncé was $1 million.
Page 6 of 30
Matthew McConaughey
Although Matthew McConaughey usually drives family cars like the Lincoln MKX and the GMC Yukon XL, he also owns some incredible fast vehicles. One of the ones he loves the most is the 1981 Camaro Z28. The actor also had a 1971 Corvette Stingray but decided to sell it on eBay. After receiving $61,600 for it, he donated the whole amount to Oprah's Angel Network for Katrina and Rita.
Page 7 of 30
Eric Bana
Eric Bana loves racing. Although people might often see him driving a "practical car", his true love is the 1974 Ford Falcon XB he owns. Bana has named it "The Beast" and has been dreaming of owning it since the big Australian motor race Bathurst in 1977. His love for this car made him direct a documentary, called Love the Beast, revolving around his relationship with the vehicle. The movie also includes the horrible crash in 2007 when this car was almost destroyed.
Page 8 of 30
Jay Leno
You might already know that Jay Leno loves cars. His collection is valued at more than $52 million. Jay takes many of these exceptional vehicles for a spin quite often. He owns a 1967 Chevy C10, a 1955 Buick Roadmaster, and an impressive 1909 Baker Electric. Jay says that the latter is the only car that doesn't need any maintenance since it is of such great quality.
Page 9 of 30
Jerry Seinfeld
Jerry Seinfeld also has an amazing car collection. He can often be seen driving a beautiful vintage vehicle on the show Comedians in Cars Getting Coffee. In the past few knew about his love for cars, but now it is a well-known fact. His collection is very big and some vehicles certainly stand out – one of them is a 1959 Porsche 718 RSK. It was the 19th made in the world and provides an extraordinary driving experience.
Page 10 of 30
Kate Moss
Kate Moss is one of the most successful supermodels in the world. Her car of choice might come as a surprise – a 1964 Rolls-Royce Silver Cloud, which is accepted as one of the ugliest cars from this brand. The style is outdated, but it is still considered a great classic. Maybe Kate knows more about cars than many would assume.
Page 11 of 30
Tim Allen
You might have seen him in Home Improvement, but contrary to his funny role, Tim Allen takes his passion for cars seriously. If you are knowledgeable about cars, you might be able to spot a couple of the vehicles on the show. Those include a 1946 Ford and a 1933 Ford Roadster. Tim's collection is far bigger than that. He also owns a 1996 Impala SS, a 1965 Shelby Cobra, and a 1968 Chevrolet Camaro 427 COPO. The actor has mentioned that he fell in love with cars when he was little.
Page 12 of 30
Aaron Paul
He became very famous for his role as Jesse Pinkman on Breaking Bad. Since then, he has taken part in other great series. After winning an Emmy and starting to earn more, he purchased a beautiful 1965 Shelby Cobra. For the movie Need for Speed, he has to practice for a very long time on the tracks. After the shooting was over, DreamWorks gifted the actor with the 1968 Gran Torino he was driving in the movie.
Page 13 of 30
Ben Affleck
Not all movies with Ben Affleck have turned out to be great, but when it comes to his choice of vehicles, there are no mistakes. For his role as Batman, he got to drive the Batmobile. A fun fact is that this vehicle was too short for him since he is 6'4". The initial concept had to be made bigger by 110% so that he could fit in it. Affleck also has some beautiful vintage cars. A favorite is the 1966 Chevelle SS 396. He had some work done on it so it became even more powerful.
Page 14 of 30
Nicolas Cage
This actor is famous for his crazy and expensive purchases. He is said to have been involved in a bidding war with Leonardo DiCaprio for a T-Rex skull priced at $276,000. A better purchase according to many people's opinion is the 1971 Lamborghini Miura SVJ. This is a real dream car. Cage bid for the car over the phone and won the auction, having to pay $446,820.
Page 15 of 30
Adam Levine
The singer has the look of a person who would collect vintage cars. His taste is pretty amazing. One of the best vehicles he owns is a 1958 Porsche 356A. His love for Porsche started around his uncle who also adored these vehicles. Lavine has partnered with the brand and gets to promote the new models, including the electric Mission E.
Page 16 of 30
Colin Farrell
This celebrity loves driving around and doing errands in a 1987 Ford Bronco. This car is not the most extraordinary, expensive, or well-kept one, but it is nice to see from time to time that even famous people drive ordinary cars.
Page 17 of 30
Tim McGraw
Did you know that Tim McGraw's father is also quite famous? Tug McGraw loved the Mets and when they won the 1969 World Series, he received a $10,000 bonus. Most of this was spent on a 1969 Mercedes Convertible. After many years he decided to pass down the car to Tim's brother and it was given to Tim, who restored its original beauty.
Page 18 of 30
Billy Gibbons
It shouldn't be a surprise that Gibbons is on the list. The frontman of ZZ Top has shared that he loves vintage vehicles. His clear favorite is the 1948 Cadillac Series 62 Sedanette which he named CadZZilla. It was customized with a lead sled body and rendered by Larry Erickson, who is one of the head designers at the car brand. Gibbons had to pay $900,000 for it, but he says it was all worth it.
Page 19 of 30
James Hetfield
The frontman of Metallica is also passionate about vintage cars. He mainly collects hot rods and customizes them. He owns a 1936 Ford Coupe, named Iron Fist, and a 1934 Packard, called the Aquarius. The former is one of a kind, having a unique design and features. As for the Aquarius – it kind of looks futuristic, given that it has a lift-off hardtop and a DuVall-style.
Page 20 of 30
Patrick Dempsey
Patrick Dempsey became famous after his role in Grey's Anatomy. After this show, he started appearing in more productions. His fans found out that he was an owner of Dempsey Racing and loves competitive racing. He has an awesome collection of race cars, but also some classics like the 1972 Jaguar E-Type or the 1969 Mercedes-Benz 280SE. Nevertheless, his very first love was a 1963 Porsche 356 which he purchased for $10,000 and used daily for 15 years.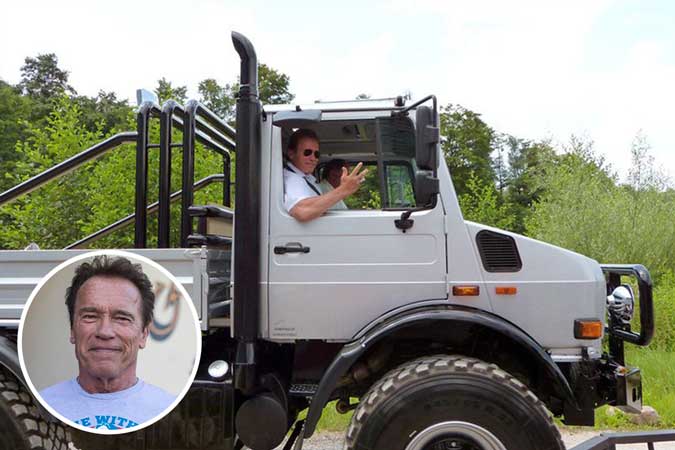 Page 21 of 30
Arnold Schwarzenegger
He has an amazing collection of classic cars, including Bentley Continental GTC, Hummer H1, Mercedes-Benz SLS AMG, and M47 Patton Tank to name a few. The latter was originally made for the Korean War but the former governor purchased it at a charity event. The theme was crushing cars.
Page 22 of 30
Lady Gaga
The famous singer has an extraordinary collection of classic cars which many might say is better than that of most men on this list. Some of her prized possessions are a Porsche Boxster, a Ford Bronco, a Mint Blue Chevy Nova SS, Chevrolet El Camino, and a '65 Lincoln Continental. She has also bought the pink coupe Cadillac DeVille of Elvis but later decided to sell it to promote her new album at the time.
Page 23 of 30
Justin Timberlake
Justin Timberlake has shared that he loves cars. He has a partnership with Audi since 2010 and has managed to amass an amazing car collection. He owns a 1968 Alfa Romeo Spider, a 1993 Acura Legend, a Hummer H3, and a 1967 Pontiac GTO. The singer fell in love with the letter after his character was driving it in the movie Trouble With the Curve. Afterward, he had to have it. He has shared in an interview that he found the Pontiac in Texas from a guy who had just restored it and had barely driven it. Timberlake immediately bought it.
Page 24 of 30
Kendall Jenner
Kendall Jenner might be one of the youngest celebrities on this list, but she certainly has a taste for vintage cars. She has shared in an interview that she is obsessed with cars as some people are with tattoos. For her, a man becomes more attractive if he owns a vintage car. Some of the cars she owns are a 1969 Chevy Camaro SS Convertible, a 1960s Cadillac Eldorado, a 1957 Chevrolet Corvette Convertible, and a 1965 Ford Mustang Convertible.
Page 25 of 30
Idris Elba
Did you know that before he became a famous actor, Idris used to work for Ford? So did his father. Driving a Ford was a part of their lives and not just a job. To this day, he still feels a connection to this brand and has shared his love for racing cars.
Page 26 of 30
Nick Jonas
You might say that there are similarities between the women and cars Nick Jonas likes to choose. Both seem to be classic and older. He owns a few vintage vehicles like a 1968 Ford Mustang, a Dodge Challenger R/T, a 5th generation Chevrolet Camaro and a 1960 Ford Thunderbird.
Page 27 of 30
Hugh Laurie
The actor from House is passionate about vintage cars. In 2010, he purchased a 1966 Ford Galaxie 500 convertible. Later he decided to sell it to his mechanic, who repaired it and is selling it for $45,500. It is said that it is still with its original radio!
Page 28 of 30
Mischa Barton
For this actress collecting classic cars is a "side hobby". She has shown off her driving skill on Joyride and usually could be spotted riding in a baby blue Cadillac Eldorado.
Page 29 of 30
Brody Jenner
The celebrity from The Hills, who is also the son of Caitlyn Jenner and a brother of Kylie and Kendall has an obsession with vintage cars. He loves his black 1970s Dodge Charger.
Page 30 of 30
Chris Evans
This TV presenter participated in Top Gear for a bit, but he is also a car lover in real life. His collection of classics is quite impressive. He has purchased a 1971 Ferrari 365 GTS/4 Daytona Spider, a 1964 Daimler V8 Vicarage Convertible, a 1961 Ferrari California Spider, a Jaguar XK120, and a McLaren 675LT. He is also the proud owner of the vehicle from Chitty Chitty Bang Bang. There are 6 such cars ever produced for the movie and this has been registered under "GEN 11".